FAMILY ROAD TRIP TO SAGUARO NATIONAL PARK
When our youngest was 15 months old, we took our first long road trip from California to Utah to explore some spectacular National Parks. Since then, each year in March, when my husband has Spring Break from his university teaching position, we take a week to drive, hike, explore and bond in some of our most beautiful western parks! This past year, we explored Saguaro National Park in Arizona, adding it to our list of parks visited and left quite impressed by its beauty.

As March approached we were looking forward to some variation of our usual route towards Northern California and Utah, however, we had just experienced one of the rainiest and coldest winters on record. Many parks were still under snow! So, at the last minute, we changed course and decided to head southeast towards cacti and warmth! First stop, Tucson for Saguaro National Park!
About Saguaro National Park
Today, Saguaro National Park is comprised of two parts that border Tucson on the west and the east. Originally, in 1933, just the western portion, the Rincon Mountains, were named as the first part of Saguaro National Monument by President Hoover. Almost three decades later, in 1961, President Kennedy established the eastern Tucson Mountain District as part of Saguaro National Monument. Amazingly, it wasn't until 1994 that Congress merged both districts (still straddling Tucson) officially as Saguaro National Park. The map of the park is so interesting because as they were looking to protect these lands, Tucson was developing too, right in the middle of the park.
It's important to point out that the time of year to visit is REALLY important. This is the desert! Spring, Fall – even Winter, are optimal times to visit, but the summer brings temperatures over 100 degrees and the Monsoon season! In the high desert, when the temperatures rise, and the sun heats the humid air, thunderstorm clouds form and rain can fall quickly causing rapid flooding. While it may be easier to plan because kids of out of school, the summer is really not a good time to visit.

We've seen cactus before – we live in California! However, the Saguaro cacti are INCREDIBLE! Many people will instantly recall the cartoons of Snoopy's brother, Spike, with the tumbleweeds and cacti – Charles Schulz helped make them iconic. As soon as we crossed the border into Arizona, we spotted the tall, massive Saguaros everywhere! Thousands of them! It was like a welcoming committee, arms wide open, Saguaros everywhere we looked. We arrived in Tucson late that evening, planning to visit the park in the morning.
Classic Saguaro

Twisted Saguaro!
Arriving at the Park
Getting an early start, we were excited to explore a new park for our family!  It felt a bit odd as we departed from a very urban area in Tucson, and within 20 minutes had been transplanted into a National Park!  As many families do, we took our obligatory family photo at the park's entrance sign and proceeded to the Visitor's Center for hiking info and Junior Ranger books.  Interestingly, rather than just giving us books, they took the names and ages of our kids to keep track of who was receiving them. The Ranger gave us some good hiking tips and we headed out. 
It was fascinating to learn how SLOOOOOW Saguaro cacti grow. The traditional Saguaro shape, with three or more "arms" is actually over 100 – 120 years old! It takes 60-70 years for the main single base to grow.  The arms start sprouting after it's nearly 75 years old! We were also blown away to learn what the inside of the Saguaro looks like. Probably best described as looking like it's made of ribs and bones. Obviously it's not bones, but the cactus is supported by a bundle of vertical wooden ribs which become visible after it dies.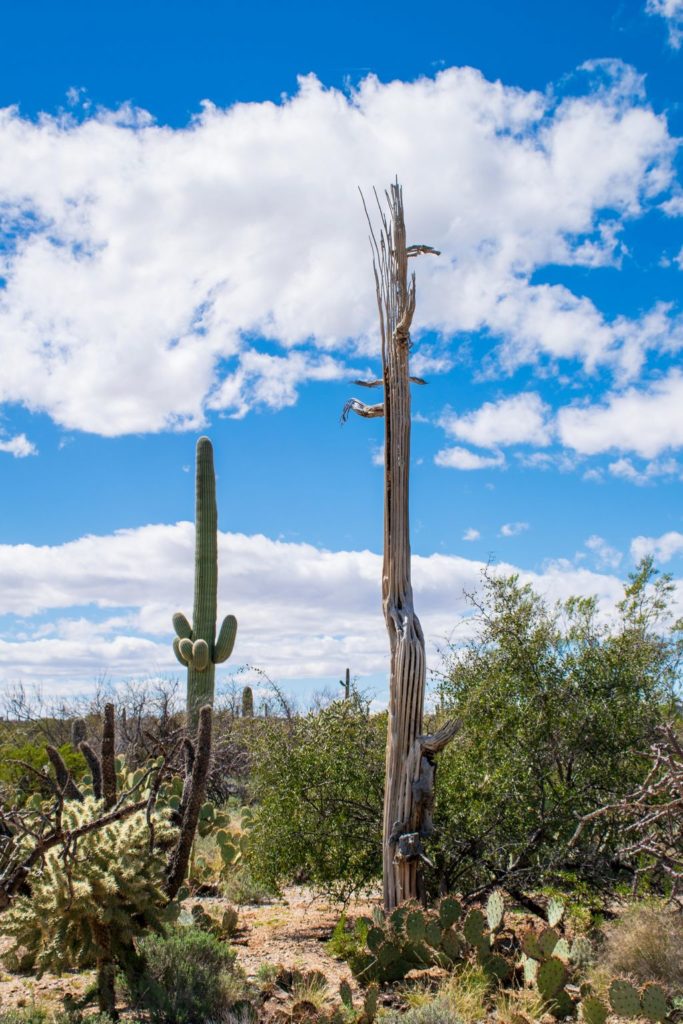 Due to our timing we chose just to visit the East side, reading that it was more picturesque. We started driving down the Cactus Forest Scenic Loop drive, which offers frequent places to pull off for spectacular views. Consider planning for at least 2 days, so you can visit both sides of the park. They offer different views and collections of cacti. It's worth noting that on this mid-March day, the weather was hot, the sun was bright and the sky was sapphire blue with puffy white clouds.
Hiking the Mica Trail
Our first hike was part of the Mica trail. We started on the paved pathway, twisting and turning around thousands of cacti. This was a great starter hike, as it introduced the various species of cacti and we could observe them in many different stages of their life. After a short while, the trail turned off onto a rocky dirt path that finally felt legit – our shoes got dirty! Crossing over dry creeks and exploring dead cactus ribs were some of the highlights with the main attraction coming at almost the end of the trail when huge hawks flew overhead! Instead of hiking the entire 3.7 miles, we took the cut through on Cactus Forest Trail and finished on the Cholla trail, which made our hike just under 2 miles, which we welcomed because of the heat.
Also, when hiking with our young kids, we stop a lot. A LOT. They are usually welcome stops however. Well, mostly. It's when they see something they want to study more closely or maybe they just want to sit in the dirt, talk, and play with the zillions of rocks surrounding them. We happily encourage their play and place that above our desire for longer hikes.
Lunchtime
At the end of the Mica/Cholla trail was a nicely shaded picnic area and our kids were on the verge of getting "hangry"! We always bring lunch and sandwich fixings on our road trips because we often find ourselves out and exploring a park midday. We don't want to spend time leaving the park looking for food options, which is usually impossible if you're in the middle of vast, open lands! AND – it's a budget-saver! We made turkey sandwiches on some nice ciabatta bread, accompanied with olives, hummus and chips and a little pasta salad while finishing up Junior Ranger books! We have really found that taking meals up a notch and having a few extra little things makes a it feel a bit more special.
Earning Junior Ranger badges
We were advised to hike the Desert Ecology interpretive trail off the scenic trail, but after the Mica trail, this one felt underwhelming for our family. It was a short, paved trail with many interpretive signs. It is a great option for younger or older legs. We quickly completed the trail and hopped back in the car.
The Visitor's Center was closing soon, so we scurried over to have the kids' Junior Ranger books checked and have our two new park rangers sworn in! Our kids had a great time explaining how animals use the Saguaros for shelter and were most impressed by the Saguaro skeleton! Our original plan was to hit the road towards Texas afterwards, but I was dying to see a sunset over the desert. The weather had been a bit ominous in the afternoon, we knew rain was coming, but it cleared and allowed for ONE MORE HIKE!
Hiking the Freeman Homestead Trail
We ventured onto the Freeman Homestead hike. I completely misunderstood, thinking there were still remnants of the original house to see – sadly the home no longer stands, but this was by far the most picturesque trail we hiked! There were KID-FRIENDLY interpretive signs along the trail – using words that were more relatable to elementary aged hikers which kept them engaged! As the sun was lower in the sky, the Saguaro shadows grew longer and leaner. We came across a dry sand wash where the sign encouraged kids to dig into the sand looking for water like animals would. Our kids were in HEAVEN! We sat there for at least 30 minutes just soaking up the sun and playing in the sand. Our Cali kids love sand anywhere where they go! Somehow the cacti on this trail seemed to have more character – how it that possible?
Until next time…
Due to the clouds covering up the horizon, we never got our iconic sunset photo filled with saguaros, but we had a wonderful time trying. We hopped in the car and headed towards Texas knowing that we had to stay ahead of the rain. There's no doubt – we will definitely visit Saguaro National Park again!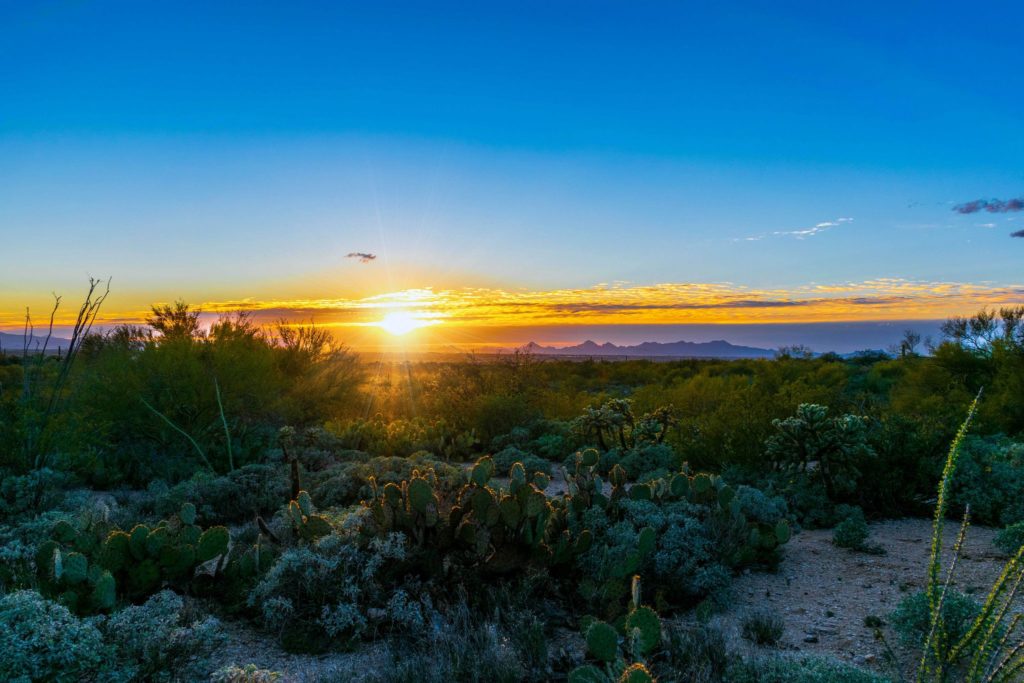 For more information on Saguaro National Park visit:
National Park Service
https://www.nps.gov/sagu/index.htm
Visit Tucson
https://www.visittucson.org/